Muscat Beaumes de Venise, Natural Sweet Wine
The only Muscat produced in the Rhône Valley, this Natural Sweet Wine blossoms in the shade of the Dentelles, in Beaumes-de-Venise
History of Muscat de Beaumes de Venise
Making Muscat is an old tradition in Beaumes de Venise. Its fame spreads thanks to the Pope of Avignon, around the year 1300. During the 14th century, the vineyard is more or less 70 ha. In 1760, Fornéry, the historian of the region writes about Beaumes de Venise: "We make there a very good Muscat, the grapes are ripened earlier and are better than anywhere." Mistral, the poet, fell in love with this wine and honours it. The Controlled Appellation Sweet Wine Muscat de Beaumes de Venise has been attributed in 1945 for a production at this period of some hundred of hectolitres.
The Controlled Appellation
Two villages are allowed to produce Muscat: Beaumes de Venise and Aubignan. The surface is around 350 hectares for a production of 10 000 hectoliters. This sweet wine is made of one grape variety: Muscat à petits grains (small grape berries). Yields are low and the grapes have to be harvested with at least 252g of sugar per litre of must. Fermentation is stopped by adding neutral alcohol, a process called "mutage". The right to produce Muscat de Beaumes de Venise is given after gustatory and analytic controls: the percentage of alcohol must be between 15 and 18%, the richness in sugar has to be over 100g per litre.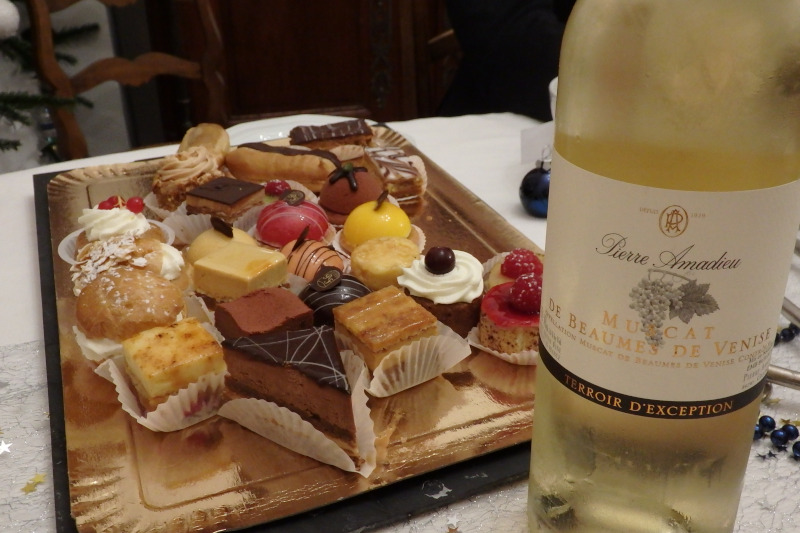 The landscape in this area is due to grey limestones and to red marls. Sand is also part of the soil dating from the Jurassic period. Beaumes de Venise enjoys a micro climate with an extreme sweetness, sheltered of the freezy wind called "Mistral".