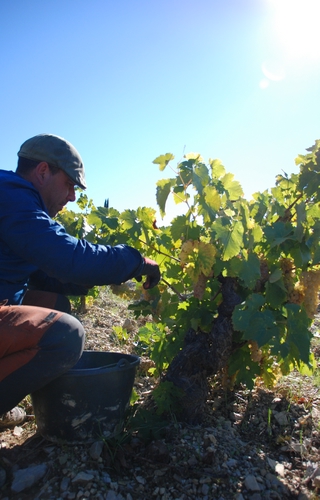 In contrast to the previous two years, autumn 2020 was dry, especially in October and November. The December rains were abundant but not sufficient to obtain a good water recharge of the soil. The end of winter was not wetter. February was warmer than normal and the very mild temperatures in March brought the vines out of their winter dormancy. The first buds burst at the end of March.
But unfortunately the cold suddenly returned on the morning of April 8th with the most important event of the 2021 vintage: a black frost. Temperatures dropped to between -2°C and -5°C on average over a large part of the Southern Rhône Valley vineyards. This had a devastating effect on the young shoots that had already emerged, which for the most part burned. The vineyards at higher altitudes fared better because these cold air masses tended to slide into the lower areas. Our higher altitude plots were therefore moderately affected, as were those pruned later. But the plots on the lower slopes were severely affected. Some particularly early and south-facing plots froze to 100%. The grape varieties reacted differently to the frost. The Grenache suffered particularly badly, whereas the Cinsault, Syrah and Clairette recovered very quickly.
The cool, wet weather continued for the next two months, allowing partial water recharge of the soil. But this did not help the vines to restart quickly after the frost.
At the end of May, the weather became milder, favouring the growth of the vineyard. Thus the flowering took place quickly and in good conditions around June 10th, which favoured a good fruit set (transformation of the flower into fruit). However, due to the frost, the cluster emergence was very heterogeneous and rather low, even if the secondary buds that grew back afterwards turned out to be more fruitful than expected.
The rest of the season went smoothly. Temperatures remained fair, with a few rainy episodes, particularly at the end of June and July. The nights were cool, allowing good ripening of the berries.
We started the harvest in Gigondas on September 20th with the Cinsault grapes for the Gigondas Romane Machotte rosé, after the first heavy rain on September 15th (50 to 70 mm). We then continued with the Syrah. The Mourvèdre for the Domaine Grand Romane cuvée was harvested from September 30th, after the rainfall of September 26th (60mm). Finally, after the storms of October 4th (115mm), we waited for the soils to be dry enough to pick our Grenache under a beautiful sun!